You've just finished your studies and it's now time for you to start the end-of-term internship that will lead you to your professional life. Try to get as much experience as you can to succed in validating your internship and (maybe even) getting a job!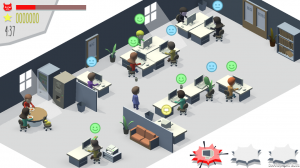 Reach to your colleagues and find ways to bribe them so they can share their knowledge with you, while avoiding to annoy your boss so he won't fire you! You don't have much time… Pay attention to your environment, and maybe, maybe, you'll manage to survive your internship!
This game was made during our first Unexpected Game Jam, which lasted 48 hours with the theme "The austerity of a loser". It then took 48 more hours more to complete and polish the game you can now play at triiiniteam.itch.io/internship-mania.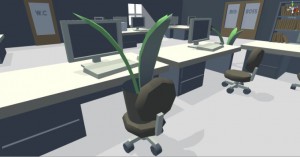 As a game and level designer, I had to quickly come up with a document detailling our gameplay and metrics, and then to compose a level which would act as a kind of labyrinth while still looking like an open space.
In the future we would like to complete this prototype with two or three more levels, a new tutorial, better feedbacks and a better balance.