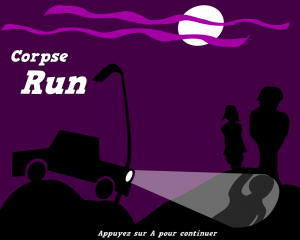 Corpse Run is an infiltration game developped during the Global Game Jam 2015 with Unity 3D by team Blblbl, a large team of ten developpers. I was one of two game/level designers along with my friend Mickaël Baud.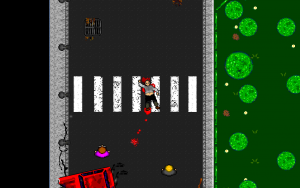 In Corpse Run, you control a pair of characters, Bernie and Claude, that ran over some guy and crashed their vehicle. Now they have a corpse to hide and a town full of police ,officers to cross in order to get rid of the dead man. Of course they'll have to drag the corpse as stealthly as possible, which won't be as easy as planned. The corpse seems to have some difficulties to accept his death and cannot be left alone, or else he will make a lot of noise and attract a lot of police officers. Bernie and Claude will have to make sure he stays quiet and hidden while they explore their environment to find a way out…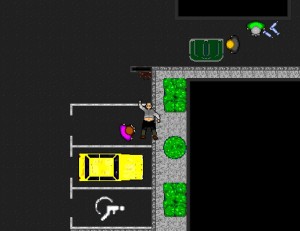 The gameplay of Corpse Run allows you to control two characters at the same time. The goal is to reach the end of the level with the body without being caught by the police. You'll have to drag and hide the body, open doors, find sideways, avoid civilians as much as possible, at least while you carry the corpse, and stay in the shadows. As a Game and Level Designer, I designed game mechanics and built some of the levels you can play in the prototype. I am still developping it with Mickaël.
If you want to check out the prototype, you can find it on the Global Game Jam website! I recommand you play it with a pad.